CEO CORNER

As most of you know, I will be retiring next month. In this, my last CEO Column, I wish to take a moment to thank all of you whoíve taken the time to read our updates and take steps to help us fulfill our mission. Working with Family and Childrenís Association for the last 19 years has been exciting because of the dedication of my colleagues; people who were willing and able to look at the good work we were already doing and find ways to make it even better; all on behalf of the clients weíre dedicated to serve. We continued to pursue innovative ways to meet our clientsí needs while offering them a hand up to a better life. This effort has been both my profession and my passion and I am grateful to all who have supported the good work being done at FCA.
In keeping with our on-going efforts to employ the best and brightest in our field, Iím happy to report that the board has selected Dr. Jeffrey L. Reynolds to become the next president/CEO of Family and Childrenís Association. Jeff will be leaving his role as Executive Director of the Long Island Council on Alcoholism and Drug Dependence (LICADD) at the end of June, and after a brief period of transition, will take over the helm of FCA. Look for his posts in upcoming issues of Family news.
Thank you for your continuing support of our mission, to protect and strengthen Long Islandís most vulnerable children, seniors, families and communities. Please consider joining us at our annual Scholarship Fund reception on June 19th at The Allegria Hotel in Long Beach where both Jeff and I will acknowledge the achievements of our students who have overcome adversity in order to pursue higher education. Itís a ďmission momentĒ for us, one that I know you will enjoy.
Hope to see you there,
Phil
P.S. Click here to make a reservation for our Scholarship Fund reception. Or, if you can't attend, please donate today.

Meet President/CEO Elect
Jeffrey Reynolds, Ph.D.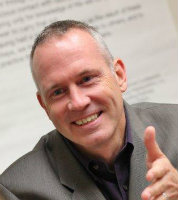 I am humbled, honored and thrilled to accept the leadership baton from Phil and canít wait to get started as FCAís new President and CEO. As a native Long Islander, Iíve spent 25 years in the non-profit sector having worked in the fields of domestic violence, HIV/AIDS and bias crimes before most recently serving as Executive Director of the Long Island Council on Alcoholism and Drug Dependence (LICADD). I believe as Ralph Waldo Emerson said, ďThe best way to find yourself is to lose yourself in the service of others.Ē Public service is a blessing and going to bed each night knowing that Iíve made things a little better for those who are struggling, the rest of our community and my own family, is a precious gift.
Iíll come on board full-time in July, but have already begun meeting with Phil to review existing initiatives and plan a seamless transition. Of course, the nonprofit sector has been faced with many challenges in recent years and imminent changes in health care financing and the delivery of behavioral health services create some uncertainty, but also a wide range of new opportunities for FCA.
Too many of our neighbors continue to suffer under the weight of poverty, hunger, homelessness, violence, chronic unemployment, preventable disease, chemical dependency and untreated mental health disorders. The stage is set for a fresh look at health and human services here on Long Island, and FCA is well-positioned to help lead those efforts. Intelligent, entrepreneurial, bold and decisive non-profits like FCA that are driven by compassion, committed to collaboration and laser-focused on maximum impact will not only succeed, but shine in this new environment.
I very much look forward to meeting each and every member of the FCA family in the days, weeks and months ahead. Iíll be spending time with our clients, staff, volunteers, supporters and community partners as together, we chart a course for the future that allows both our organization and those we serve to soar to new heights. I canít wait to get started. Please feel free to email me at jreynolds@familyandchildrens.org if you'd like to get together.
Jeff
---
Mission Moment


Join us on June 19th at the fabulous Allegria Hotel in Long Beach at our annual Scholarship Fund Reception where we celebrate the academic achievements of our clients. Young men and women who, despite failing schools and economic adversity, are going to college or trade school in order to build better lives. Come and join us as we celebrate their success and commit to their continued progress in attaining a college degree. Email us for details.
---
Book Fair Set for 6/14

Join us on June 14th for a book fair at Barnes & Noble at 1542 Northern Blvd in Port Washington. You'll enjoy story time, musical interludes and more! Click here for voucher.
---
Wink Joins Board
We are proud to announce the appointment of Wayne H. Wink, Jr., Esq. to our Board of Trustees effective immediately. Mr. Wink is a partner at Gerstman Schwartz & Wink specializing in real estate, land use and civillitigation as well as Town Clerk of the Town of North Hempstead.
---
Hero of the Month

We are proud to recognize Congresswoman Carolyn McCarthy as our June Hero of the Month in recognition of her compassionate leadership and dedication to the people of Long Island. Meet Congresswoman McCarthy at our Scholarship Fund reception on the 19th (see above) and help us congratulate her on her retirement from public service.
---
Golf & Tennis Tournament Surpasses Goal

Over $130,000 was raised at last month's Golf & Tennis Tournament thanks to honoree Mike Monahan of CohnReznick, LLP, our sponsors, players and guests. Enjoy photos from the outing by clicking here.
PLEASE GIVE


SAVE THE DATES


June 14th
Book Fair at Barnes & Noble
for voucher.
June 19th
Scholarship Fund Reception at the Allegria Hotel
Email us to attend
November 20
ThanksGiving Ball at The Garden City Hotel
The mission of Family & Children's Association is to protect and strengthen Long Island's most vulnerable children, seniors, families, and communities. We offer assistance to those who are experiencing social, emotional and economic challenges.
Family & Children's Association e-newsletter is made available to our friends, sponsors, donors, volunteers and employees for informational purposes only. The information contained in this communication is not intended as advice or to take the place of professional counseling.
© 2014 Family & Children's Association - All rights reserved.
100 E. Old Country Road, Mineola, NY 11501 | (516) 746-0350