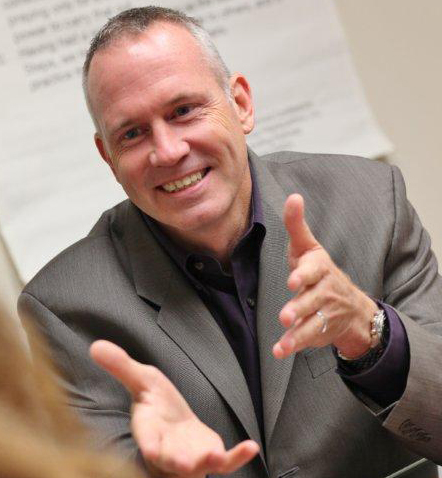 CEO CORNER
By Jeffrey L. Reynolds, Ph.D.

If you're like me, you dumped a bucket of ice water on your head this summer, visited the ALS Association's website to make a donation and then asked a few of your nearest and dearest friends to do the same. They followed suit and so did millions of other Americans, raising an astounding $110 million for an often overlooked disease during the dog days of summer when charitable fundraising typically dries up. A clever idea, perfect for video and propelled by social media, the Ice Bucket Challenge was a resounding success and a will likely be the topic of philanthropy-focused articles, speeches and book chapters for years to come.
Predictably, a few cynical commentators have thrown cold water on the campaign, suggesting that the ice bucket videos are nothing more than a self-indulgent opportunity to take a selfie while appearing generous. Others have bemoaned the wasted water, while pointing to California droughts and the scarcity of clean drinking water in many developing countries. I get that, but the end result is incredibly compelling. And it's not just about the $110 million.
According to Facebook, Ice Bucket Challenge videos were viewed more than 10 billion times and reached more than 440 million people. That means that millions upon millions of people learned more about ALS (amyotrophic lateral sclerosis). Absent some personal experience, most people knew little about the neurodegenerative disease, its devastating progression and impact on families.
Beyond that, the Ice Bucket Challenge introduced toddlers, teens, young adults and entire families to philanthropy and the joy of helping others. Nonprofits across the United States are filled with development professionals struggling to find ways to "engage the younger demographic" and "involve whole families" in their mission or cause. The ALS Association nailed the perfect strategy - or stumbled across it - whatever the case may be. Each participant, at the very least, publicly proclaimed their support for the fight against ALS and challenged their friends to do the same within 24 hours. Some went on to make a donation via the ALS website; many didn't, but each participant did something to advance the cause. And as they did so, their friends "liked" their videos, made positive comments and engaged others just as they were asked. Participants got to experience the satisfaction of taking a concrete action on behalf of those who are suffering, were able to boast about their charitable act in a socially acceptable way and received lots of praise for doing so.
The ALS Association has set a new standard for charitable fundraising. They found a cost-efficient way to raise a ton of money in small increments from average folks whose names have probably never appeared in bold face type and who until now, probably knew little about ALS or the ALS Foundation. That's a resounding success by any measure. Now it's up to local charities like FCA to ensure that as the weather turns cooler and we stow our ice buckets, that we find innovative ways to help those donors experience the magic of helping others again and again in the weeks, months and years ahead.
Jeff

IT'S GO TIME!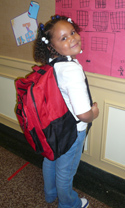 The lives of the children we serve can often be difficult, and many of them don't enjoy going back to school because it can be a time of stress and embarrassment as they show up with ill-fitting clothes and without school supplies.
It's not too late to help!

We still need
loose leaf paper
1" and 2" binders
notebooks
sneakers
markers
backpacks
You can drop off donations to: FCA @ 100 E. Old Country Rd, Mineola or BluChip Marketing @ 300 W. Main St, Smithtown.
Don't have time to shop? Visit www.familyandchildrens.org and make a donation. $5 or $10 will be a big help to a youngster in need. Thank you to those who've already stepped up to help like Meredith Minkoff, Heather Robertson and:
Astoria Bank - Celebrating 10 years of giving
Brooke Jackman Foundation - Celebrating 10 years of giving
Henry Schein, Inc. - Celebrating 14 years of giving
The Community Church of East Williston
Weiser Mazars LLP
Westerman Ball Ederer Miller Sharfstein LLP
---
HOMELESS YOUTH WINS CAPITAL ONE FINANCIAL LITERACY CHALLENGE

Congratulations to Nia W. (pictured here with Capital One's Peter Appello and Kristin Buckley) on her $5000 award for saving the most money during the 2014 Capital One Financial Literacy Challenge. Nia lives at our Walkabout residence for homeless youth and was able to save over $8000 by working two jobs. She hopes to use the award from Capital One toward finding a safe and affordable place to live.

Give the Gift of Knowledge If you're interested in helping Nia and other young people who are transitioning from homelessness or foster care to independent living, please consider sharing your expertise with them through 2-hour workshops on the following topics:
Food Management (food prep, cooking, supermarket shopping)
Housekeeping (How to Guides)
Housing (searching, obtaining, and maintaining)
Transportation (vehicle safety, accessing and using public transportation)
Educational Planning (completing HS, GED, and college and vocational, financial aid)
Job Maintenance (what does it take to do well, get promotions)
Emergency and Safety Skills (First Aid and CPR training)
Community Resources
Interpersonal Skills (Communication, Self- Esteem, etc.)
Legal Issues (contracts, citizenship)
Family Planning
Please email us to get a date on our calendar.

---
FCA MOURNS LOSS OF FORMER TRUSTEE


We at Family and Children's Association are saddened to announce the passing of former board member and beloved friend, Carol Wessel. Carol served as board chair of Family Service Association during the organization's merger with Children's House in 1998, and served as FCA's first board chair following the merger. More...

---
HENRY SCHEIN IS HERO OF THE MONTH

On behalf of the many clients whose lives have been improved by the kindness and generosity of the employees of Henry Schein, Inc. we are proud to announce that Henry Schein, Inc. is our September Hero of the Month! Pictured here at their annual Back-to-School event are, from left to right: FCA's Jeff Reynolds, Henry Schein's Gerry Benjamin and Suffolk County Executive Steve Bellone.

---
$5000 GRANT FROM NY COMMUNITY BANK FOUNDATION


For the 10th consecutive year, NY Community Bank Foundation has donated $5000 to help fund a luncheon to recognize the countless hours FCA volunteers and staff have devoted to improving the lives of Long Islanders in need. Read coverage of this donation in NY Nonprofit Press.

---
U.S. SENATOR CHUCK SCHUMER VISITS HICKSVILLE COUNSELING CENTER
President/CEO Jeff Reynolds, Ph.D. joined US Senator Charles Schumer as he unveiled his plan to introduce legislation and encourage a boycott of the sale of Palcohol - powdered alcohol that can be snorted or added to food or fluids. Dr. Reynolds noted that youth who abuse alcohol before the age of 15 are 5 times more likely to suffer addiction as adults. Access to a powdered alcoholic product that is easily concealed and difficult to measure would have dire consequences for Long Island youth. Read the full story in Newsday .

---
NBC NEWS COVERS METHADONE ISSUE
The recent death of a former addict denied methadone by Nassau County Felony Treatment Court Judge raises questions about rulings. Dr. Jeff Reynolds participated in the story noting, "Young people are dying left and right because of substance abuse. If we have an intervention that could potentially help them, then we should be using it." See segment.
PLEASE GIVE


SAVE THE DATE
Nov. 5 @ 5:30 pm
Legacy Giving Workshop
click here for details

November 20
ThanksGiving Ball at The Garden City Hotel
Honoring William A. Marino


Founder/CEO
Star America
Click here for details


GET BREAKING NEWS
Friend Us & Follow Us!





Check out pictures of our make-over with IDS Long Island
The mission of Family & Children's Association is to protect and strengthen Long Island's most vulnerable children, seniors, families, and communities. We offer assistance to those who are experiencing social, emotional and economic challenges.
Family & Children's Association e-newsletter is made available to our friends, sponsors, donors, volunteers and employees for informational purposes only. The information contained in this communication is not intended as advice or to take the place of professional counseling.
© 2014 Family & Children's Association - All rights reserved.
100 E. Old Country Road, Mineola, NY 11501 | (516) 746-0350