CEO CORNER
By Phil Mickulas
Interim CEO
Several of our programs are at risk of closure due to budget cuts from both Nassau County and New York State. It is difficult to predict the full impact of these closures on the populations we serve, but I can tell you that our teen runaway shelter, residence for homeless youth and veteran's resource center have been forced to turn people away. If you can connect us with new funding sources for these very important programs, I urge you to email me immediately.
As always, we continue to focus on giving a helping hand to our neighbors in need. Last month we celebrated National Volunteer Week when we thanked all our very special volunteers for helping us carry out our mission. It takes only a moment to make a difference in another person's life. It was Socrates who said, "the unexamined life is not worth living." We encourage you to examine each moment of your day and look for opportunities to help those around you, including donating to Family & Children's because our clients need your help so very much.
Phil

P.S. Thanks to a technology grant from the Gladys Brooks Foundation, we were able to update our website. Please take a moment to visit it and learn more about our community of caring.
SAVE OUR SHELTER
Our shelter for runaway teens is in jeopardy. We helped over 450 ten to twenty-year olds last year, but because of budget cuts from Nassau County and New York State, we have been forced to cut staff and turn some of these children away. The young people who come to us may be running away from an abusive situation or they may have been brought to us by Child Protective Services. They are at risk, and we are their safety net. Please click on the Take Action button below and help a teen in crisis!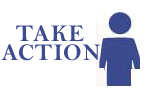 ---
HERO OF THE MONTH

Gary Segal, President/CEO of Five Star Electric Corporation is our Hero of the Month!
Gary has graciously agreed to be the 2010 Honoree at our Golf & Tennis Tournament where he will be hosting friends and supporters at the fabulous Creek Club in Locust Valley.
Thanks to Gary's hard work, the outing is now sold out. However, you can join us for the cocktail reception where we'll toast Gary as we watch the sun set over Long Island Sound. Email us for details.
---
Future Heroes Needed
We need adult volunteers to help supervise high school students who've volunteered to build a container garden. If you have experience building raised beds and want to help during the week of May 23rd, email us.
Around the Agency


We are very grateful to Newsday Charities, a fund of the McCormick Foundation for their support of our summer camp and client relief programs. Pictured here from Newsday are (L to R) Fred Groser, Publisher; Dale Cole, Community Affairs Project Manager; Bill Stewart from FCA; and Paul Fleishman, VP of Public Affairs.
---
Our friends at the Hearst Foundation visited our educational programs and bestowed a generous grant in support of our efforts to close the achievement gap for at-risk children.
---


Thank you to all our volunteers whom we gratefully acknowledged last month and thank you to our friends at Nassau Educators Federal Credit Union (NEFCU) for providing gifts to our volunteers. Pictured here are volunteers from our Ombuds program with representatives from NEFCU.
---

Students from Baldwin's Milburn Elementary School donated new books and pajamas to our Family Ties program through their Parents as Reading Partners program. Thank you to all who cared enough to make a difference!
The mission of Family & Children's Association is to protect and strengthen Long Island's most vulnerable children, seniors, families, and communities. We offer assistance to those who are experiencing social, emotional and economic challenges.
Family & Children's Association e-newsletter is made available to our friends, sponsors, donors, volunteers and employees for informational purposes only. The information contained in this communication is not intended as advice or to take the place of professional counseling.
© 2011 Family & Children's Association - All rights reserved.
100 E. Old Country Road, Mineola, NY 11501 | (516) 746-0350