CEO CORNER
By Jeffrey L. Reynolds, Ph.D.

Odds are, you know that FCA is fighting a potential funding cut that would devastate our foster care prevention program serving Nassau's most vulnerable children and families. The proposed cut from the Nassau County Department of Social Services totals $2.2 million and will mean the termination of 29 FCA staff. We're pushing the County to reverse the proposed cut and at the same time have joined a national "Keeping Kids in Families" campaign led by the Alliance for Strong Children and Families.
Here's the crux of the national problem: For every $6 spent on children in foster care, just $1 is available to fund services for families that will prevent foster care placements.
It's clear that we need a fresh look at child welfare in the US and now is the time to adopt a modern, comprehensive approach that helps us do a better job of helping and supporting families, much earlier. For some kids, foster care placement is a suitable option, especially as family-based alternatives have evaporated. But those placements should be brief, targeted, appropriately supported with a wide variety of evidence-based community services and properly monitored.
According to the US Department of Health and Human Services (DHHS), there are more than 400,000 children living in the foster care system and they stay there for an average of 21 months. The average age of children entering the foster care system is nine years old and minority kids are disproportionately represented. Casey Family Programs notes that African American children represent 29% of the children in foster care, but only 14% of the U.S. child population.
To this day, we as a country remain focused on treating the symptoms of child neglect and abuse, rather than addressing the root causes that put kids at risk. Having a parent with a disability, a mental illness, or substance use disorder increases the odds of a foster care placement, as does being poor. Homeless families are nearly 9 times more likely to have their children placed in foster care.
Foster care is expensive; here in New York, it costs about $29,000 per year per child. But that's not the costliest part, because children who spend time in foster care often face serious challenges later in life. They are more likely to experience teen pregnancy, homelessness, incarceration, mental health issues, addiction and less likely to complete their education or find employment.
Sure, some of these young people beat the odds and we have our fair share of success stories right here at FCA. But we also know that children usually fare best in families. A national dialogue about how best to strengthen families and keep children safe in their homes whenever possible, preventing traumatic and expensive entry into foster care is long overdue. We must also secure permanency quicker for children who are removed from their homes and provide high quality behavioral and therapeutic interventions through residential settings when that option is the most effective, appropriate and safest environment in which to address a child's needs. Child welfare policies are in desperate need of reform and this is the type of conversation that should be dominating presidential debates.
Jeff

Time to Go Back To School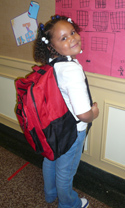 We're helping Long Island's neediest families get their children ready for a successful school year and we need your help. Make an online donation or drop off school supplies to 100 East Old Country Rd in Mineola.
What's needed? Everything!
Crayons, color pencils, pens and #2 pencils
B&W notebooks, spiral notebooks, binders, loose-leaf paper
Rulers, scissors, glue sticks, highlighters
Calculators, backpacks
Sweatshirts, sweatpants, sneakers (all sizes)
Why give?
Because the lives of our clients, like Nachela (see story below), can be very different from their classmates because they do not wear the same cool clothes as their peers and poor students are often the targets of ridicule. Many of FCA's clients do not look forward to going back-to-school because for them it is a time of stress and embarrassment as they show up on the first day of school with ill-fitting clothes and no supplies.
You can change that! Please provide financial support or drop off supplies before 9/30/15. Thank you!
Nachela's Story

Nachela came to us back in 2011 at the age of 14 because she was suffering from neglect: she was not enrolled in school and was not living in appropriate housing.

She had just been removed from her home and placed in foster care when FCA welcomed her as a member of our Project Independence program. In keeping with our mission to help Long Island's most vulnerable children, we assist children ages of 14-21 who are in foster care.

Studies have shown that after exiting the foster care system at the age of majority (usually 18), many of these youth face serious problems, including homelessness, poverty, incarceration, early pregnancy, and unstable employment.

FCA works to ensure that Long Island's children do not meet this same fate. We offer them a pathway to a new life of independence and success. Click here for more on Nachela's progress.
---
3-on-3 Basketball Tournament


Join us on 9/27 for our inaugural 3-on-3 Basketball Tournament. Get your friends or co-workers to join you at this fun event and you'll be helping help young people in crisis. Click here for details.
---
Charity on the Vine: A Food & Wine Extravaganza on the Water


We hope you can join us on October 6th at The Bridgeview Yacht Club in Island Park for this amazing wine and food experience. You'll sample more than 100 fine domestic and international wines along with delicious small plates and appetizers for only $85/per person! Space is limited, so make your reservation today!
---
Join the United Walk for Recovery
Join us on 8/30 @ Farmingdale State College to show your support for our neighbors in recover. Click here to register.
---
Bernadette Kasnicki is Hero of the Month


We're grateful to Bernadette Kasnicki of Farrell Fritz, Inc. for spearheading our first annual SoulCycle event and helping us raise much needed funds for our mission. Congratulations Bernadette!

---
Thanks to Our Triathletes


A huge thank you to everyone who supported and donated to our team at the Panasonic NYC Triathlon 2015 on Sunday! And congratulations to our triathletes FCA Staff members Kerri Mitchell, Marc Fernandez; FCA Trustee Dan Griesmeyer; supporter Brian Wilkinson and FCA CEO Jeff Reynolds (pictured here with Don Holden) for an amazing race.
PLEASE GIVE


SAVE THE DATE
9/27
3-on-3 Basketball Tournament

10/6
Charity on the Vine

11/19
ThanksGiving Ball at The Garden City Hotel
Click here for details


The mission of Family & Children's Association is to protect and strengthen Long Island's most vulnerable children, seniors, families, and communities. We offer assistance to those who are experiencing social, emotional and economic challenges.
Family & Children's Association e-newsletter is made available to our friends, sponsors, donors, volunteers and employees for informational purposes only. The information contained in this communication is not intended as advice or to take the place of professional counseling.
© 2015 Family & Children's Association - All rights reserved.
100 E. Old Country Road, Mineola, NY 11501 | (516) 746-0350