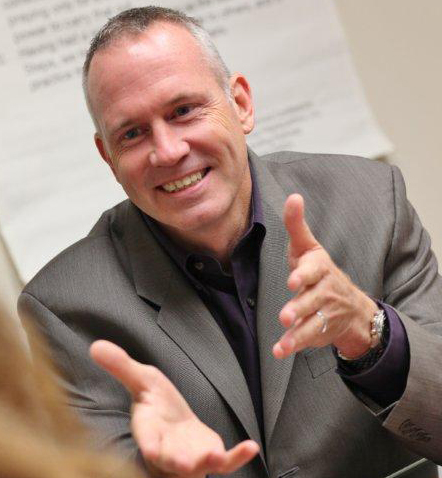 CEO CORNER
By Jeffrey L. Reynolds, Ph.D.

I recently had the privilege of speaking at a gang and youth violence conference sponsored by the Hofstra School of Education Office of Professional Development and the Safe and Supportive Schools and Community Consortium. Participants were an eclectic group of dedicated professionals from law enforcement, education, social work and faith-based agencies, all hungry for the latest information about the gang presence on Long Island and evidence-based strategies for violence prevention. It was a great conference, but those looking for something new may have left disappointed.
That's because effectively combating youth violence and reducing the appeal of gangs isn't about the next new program, curriculum or service model. Instead, it's about finding new ways to effectively tackle age-old problems that put young people at risk for dropping out of school, unintended pregnancies, criminal justice consequences, illness and injury, and yes, gang involvement.
Youth are at higher risk for joining a gang if they feel unsafe or insignificant in their homes, schools and communities. Boosting safety and significance, in turn, means reducing individual, familial and community risk factors while simultaneously boosting protective factors. How do we do that?
Address individual risk factors like untreated mental health conditions - conduct and mood disorders, hyperactivity, depression, anxiety and substance use disorders - through timely diagnosis and treatment on demand. Reduce family risks by finding new ways to combat multi-generational poverty, unemployment and illiteracy, while at the same time, supporting families who are experiencing caregiver transitions. At a community level, we need a renewed push to break through the pervasive violence, high crime rates, rampant poverty and low performing schools that seem to have become acceptable and intractable realities in some communities.
Understanding the difference between symptoms and problems, between smoke and fire, will help maximize and focus our efforts on rebuilding the lives of individuals, families and entire neighborhoods. Do that, and gangs will disappear.
Jeff

FEBRUARY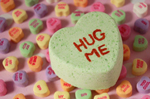 Love is in the air! If you're making plans to show your loved ones how you feel about them; we'd like to invite you to think about Valentine's Day in a whole new way. This year, why not make it about showing love to a homeless or at-risk youth by giving a gift that matters.
Our Gift Catalog was created to help youth involved in our Step Up to Success initiative - a program designed to turn 'at-risk' youth into 'can do' adults. Our catalog features everyday items that, when given to a youth in need, can make an significant impact in their life. You'll be able to choose exactly the type of gift you'd like to give, items such as clothing, education/life skills, food/shelter and transportation; simple things that take on special meaning when given to young people struggling with homelessness. Please take a moment to visit our catalog and learn more about the participants of our Step Up to Success initiative.
This year, make Valentine's Day really special by giving a gift that can transform a young person's life.
---
AVI FELIX IS HERO OF THE MONTH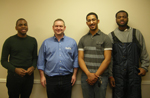 Avi Felix, CEO of LI Frozen Storage recently hired seven youth from our Step Up to Success initiative. His commitment to our youth is a powerful contributor in helping them become self-supporting adults. Congratulations to Avi and the employees of LI Frozen Storage!

---
GIVING GIFTS THAT MATTER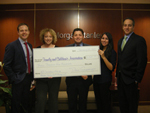 Members of the New York SoundView Group at Morgan Stanley Wealth Management honored their clients last year by making donations on their behalf to FCA during the holidays. We appreciate their generosity and will use these gifts for things that matter, like help for struggling families and safety for vulnerable seniors.

---
PIE IN THE FACE DAY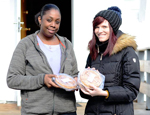 Employees of SupplyHouse.com, a HVAC and plumbing supply company located in Farmingdale, celebrated National Pie Day by having a pie-in-the-face party. For each employee hit with a pie, the company made a donation of food to our emergency shelter in Wantagh. Pictured here are FCA's Steffy with Mary Costello of SupplyHouse.com.

---
VALENTINE'S FOR SENIORS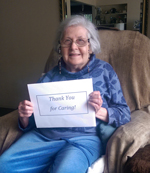 We're grateful to the employees of MSC Industrial Direct for donating to provide Valentine's Day gifts to home-bound seniors. Employees contributed 48 gift cards to make sure that Long Island's seniors know that they are loved and not forgotten.
PLEASE GIVE


SAVE THE DATE
4/19 - Mini Mighty Man Pool Triathlon
5/21 - Golf & Tennis Tournament
6/18 - Scholarship Fund Reception
7/19 - 2015 Panasonic NYC Triathlon
Event Details
PHOTOS
Our ThanksGiving Ball was a great success raising over $250,000! Click here for photos


The mission of Family & Children's Association is to protect and strengthen Long Island's most vulnerable children, seniors, families, and communities. We offer assistance to those who are experiencing social, emotional and economic challenges.
Family & Children's Association e-newsletter is made available to our friends, sponsors, donors, volunteers and employees for informational purposes only. The information contained in this communication is not intended as advice or to take the place of professional counseling.
© 2015 Family & Children's Association - All rights reserved.
100 E. Old Country Road, Mineola, NY 11501 | (516) 746-0350