CEO CORNER
By Jeffrey L. Reynolds, Ph.D.

The welcome I've received from the FCA family of staff, volunteers, clients and supporters has been nothing short of amazing and for that, I thank you. The array of programs offered by this organization is absolutely amazing and rivaled only by the compassion, integrity and gratitude I've witnessed first-hand at each site.
Arakel is part of our family and we are pleased to share his story - a story filled with hope and resilience that so aptly demonstrates the incredible potential that burns bright within our young people - especially those who have overcome extreme adversity. Young migrants have been front page news in recent weeks, renewing national debates about immigration that often overlook the chilling conditions causing so many young people to flee Mexico and Central America. These are kids - refugees - who are escaping brutal assaults, rape, gang recruitment, and murder. These are families who after enduring generations of extreme poverty and government's failure to protect them, have come to believe that their three-year-old sons and daughters would be better-off arriving in an unwelcoming foreign country alone.
Michelle Brane, director of the migrant rights and justice program at the Women's Refugee Commission recently told the New York Times, "If a house is burning, people will jump out the window." Standing by as desperate, frightened and traumatized children fall to the ground is unconscionable and so is pushing them back into the fire.
Jeff

My Story of Survival
I am twenty-six years old and originally from Bagdad. I had a wonderful childhood until 2003 when extremists gained power. Bombs were being found on every corner and kidnapping has become a common phenomenon in our daily lives. Like thousands of other Iraqis, my family had to make the tough choice and flee Iraq to simply survive.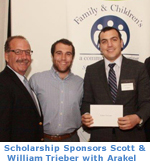 In October 2006, we made the difficult decision to leave the country and went to Syria. My parents had to leave everything they had built in their lives behind in order for us to survive. Thankfully, after long months, we were accepted to come to the United States. It was the biggest relief I have ever felt in my life. We arrived in America in March of 2008. My parents could speak very little English and thus could not find good paying jobs. Therefore, I had to work sixty-five hours a week at two different jobs to pay the rent with help from my entire family working minimum wage jobs and attending night school to learn English. All of my school records were lost so I had to apply for a high school equivalency diploma in order to be eligible to continue with my education and my dream of going to college.
Family & Children's Saved Me
Thankfully, I was able to attend Family and Children's Vocational Education program to obtain my GED. I was then admitted to Nassau Community College (NCC); going to college and dealing with the language barriers was extremely difficult. However, I earned a 3.94 cumulative GPA, graduated from NCC and was accepted into Columbia University. Thanks to support from Family & Children's Scholarship Fund, I will graduate this year from Columbia University and I am going to intern with Goldman Sachs this summer. I am grateful to Family & Children's for this help and for their investment in my future; they've helped me continue my education and realize my dreams. My plan is to give back to Family & Children's Association so that they can reach out to the next person who desperately needs help.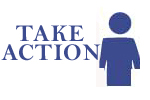 Please donate today to help young people like Arakel who rely on Family & Children's community of caring to not only survive, but to thrive.


---
The Home Depot Foundation Supports Veterans Residence


Through its Community Impact Grants Program, The Home Depot Foundation has awarded $5,000 to improve the lives of veterans living in Family & Childrenís Associationís Veterans Residence in West Hempstead, NY. The grant will go toward renovating the bathroom used by the eight men residing in the residence, all of whom bravely served our country yet were at risk of being homeless. We're looking for plumbers and contractors to volunteer to help with this project; email us to volunteer.
---
Gold Coast Multi-Chamber of Commerce

Staff members Terry Wood, Arnold Raphael and Peggy Sicari mixed and mingled with over 400 professionals at this networking event to promote FCA to our fellow Long Islanders.

---
Veterans Residence in Herald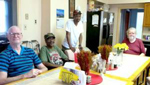 Our Veterans Residence was profiled by the West Hempstead Herald bringing to light the needs of our residents for companionship and transportation. Click here to read full article. To volunteer, click here.

PLEASE GIVE


SAVE THE DATES

November 20
ThanksGiving Ball at The Garden City Hotel


The mission of Family & Children's Association is to protect and strengthen Long Island's most vulnerable children, seniors, families, and communities. We offer assistance to those who are experiencing social, emotional and economic challenges.
Family & Children's Association e-newsletter is made available to our friends, sponsors, donors, volunteers and employees for informational purposes only. The information contained in this communication is not intended as advice or to take the place of professional counseling.
© 2014 Family & Children's Association - All rights reserved.
100 E. Old Country Road, Mineola, NY 11501 | (516) 746-0350